When selecting an ideal natural stone for commercial and residential projects, there's no better choice than marble, especially the epitome of beauty and refinement – The Fantasy Brown Marble. The gorgeous and exquisite fantasy brown marble includes natural waves created by nature over billion years. 
Before we learn more about this highly sought-after marble, let us understand:
What is Fantasy Brown Marble?
Fantasy Brown Marble, often confused as granite or quartz, is a marble type ideal for construction and renovation projects. It is harder than a standard marble as it goes through a geological process called "dolomitization". Hence the other names – hard marble, dolomite or dolomitic marble.
When building any structure, it is necessary to use quality materials as they are a considerable investment and are meant to last for an extended period, and what's better than natural stones? Natural stones are excellent for construction projects used as floorings, countertops, stairs, walling, etc. They are sustainable, low-maintenance, long-lasting, affordable, offer greater ROI, and much more. 
Most importantly, a structure, whether residential or commercial, is not built daily; therefore, what natural stones should be used during construction must be cautiously assessed – considering every possible aspect. 
In this blog, we will explore different reasons why fantasy brown marble is "the material" for construction projects. 
Characteristics of Fantasy Brown Marble.
Composition and geological origin
All the existing marbles undergo a geological process called metamorphism throughout time under conditions like high temperature and pressure. This process causes the metamorphic rock to crystalize and turn into marble. 
The hard marble originates from the northern part of India, in Rajasthan. The presence of calcium carbonate is what characterizes fantasy brown – an Indian origin-stone as marble. 
Physical properties
The properties of fantasy brown marble include hardness, scratch resistance, etch resistance, weather resistance and more. The brown fantasy marble undergoes a geological process called "dolomitization", which gives it the additional hardness that regular marbles don't have. 
Unique coloration and veining patterns.
The fantasy brown marble is a distinguishable marble type because of its colors and patterns in warm and cool tones like white, grey, warm beige, gold and, of course, the breathtaking deep earthy brown. 
The unique veining patterns of the fantasy brown marble also exhibit an exceptional illustration showing resemblances to mother nature.
Applications of Affordable Fantasy Brown Marble Options.
The use of fantasy brown marble is incredible because it is affordable yet perfect for luxury home decor – its subtle color tone and veining give it a premium charm and appeal. 
Besides its stunning beauty, brown fantasy marble is well-known for its weather-resisting capabilities, durability and hardness, making it an extensively used natural stone in the construction industry, whether a residential or commercial project. 
Some common applications of fantasy brown marble include:
Floorings
Tabletops
Countertops
Internal and external wall cladding
Stairs
Fountains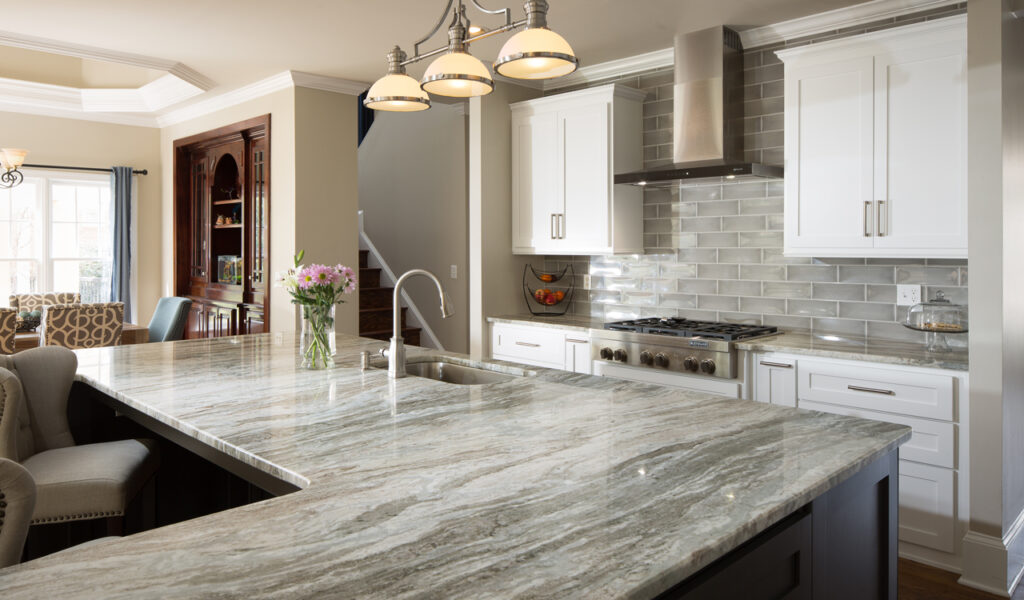 Comparison of Fantasy Brown Marble.
Fantasy Brown vs Granite - Fantasy brown marble and granite fall under different categories. One is a metamorphic rock, whereas the latter is an igneous rock. 
Fantasy Brown vs Quartz - Quartz is an artificial stone engineered in factories, and on the contrary, fantasy brown marble is a natural stone that is quarried. 
Fantasy Brown vs Quartzite - Fantasy brown marble and quartzite are metamorphic rocks, but fantasy brown contains calcite, and the latter doesn't. Fantasy brown is a softer material than quartzite. 
Fantasy Brown vs Tiles - Tiles are manufactured construction materials. On the other hand, fantasy brown marble is a natural stone. 
Benefits of Using Fantasy Brown Marble in Construction Projects.
Multi-purpose use
Fantasy brown marble has been a trendy marble used for various purposes, ranging from countertops, tabletops, flooring, bathroom flooring, stairs, wall cladding, etc. The properties of fantasy brown marble are such that it is suitable for every construction project, residential or commercial.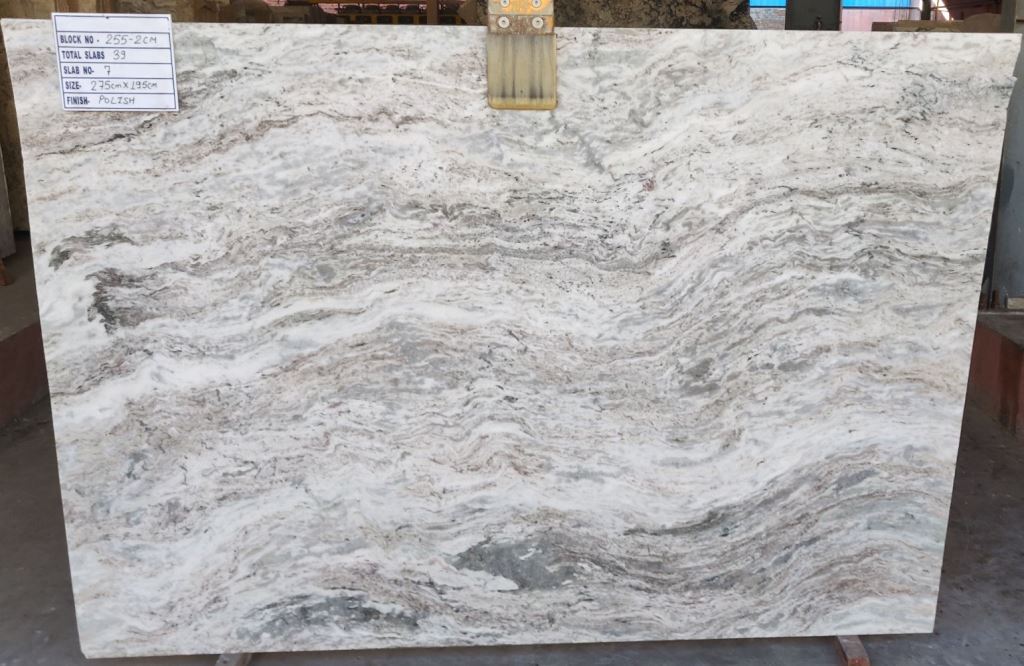 Durable 
The brown fantasy material is in proximity to marble and quartzite. Unlike other marble types, fantasy brown is characterized as a hard marble as it is tougher and stronger than regular marble making it a long-lasting choice for construction projects. 
Low maintenance
Fantasy brown marble does not require frequent polishing and honing. The chances of scratches and etching are less than classic marble, making it an easy-to-maintain option. The natural color of the marble also masks slight damages, if any.
One of the significant maintenance and care tips for Fantasy Brown Marble is that one must reseal the marble at least once a year, and the easiest way to find out if it's time to reseal is through a water test. A properly sealed marble doesn't soak up water; if it does, it requires resealing. 
Aesthetic
The colors and patterns of fantasy brown marble make it stand out and the buyer's favorite! The gorgeous variation of warm and cool tones makes it unique and suitable for residential and commercial interior decoration, giving the space a luxurious appearance and feel.  
Resistant to scratches
Unlike regular soft marble, fantasy brown marble is harder and stronger. It may not be completely resistant to scratches, but its likelihoods of scratching are relatively lower than a standard marble type. 
Resistant to etching.
Regular marbles are prone to getting etched, but fantasy brown marble is highly etch-resistant. Kitchen and bathroom items such as lemon juice or acid etch the surfaces of traditional marbles; however, in the case of fantasy brown a honed or leather-finished marble can mask any future damages. 
Factors to Consider When Choosing Fantasy Brown Marble.
Fantasy Brown Marble is undoubtedly an excellent material for construction projects; however, it is a natural stone with its particularities. Therefore, to make an informed decision, one must cautiously take into account a criterion when selecting different available options. 
Residential or commercial use
Fantasy brown marble is suitable for multi projects; however, one must select the marble depending on the purpose of its use. Commercial projects demand a tougher marble, whereas housing projects require something more on the attractive side. 
Internal or external application
Usually, materials used for internal and external purposes need to be cautiously chosen due to weather conditions. However, fantasy brown marble is a natural stone ideal for internal and external applications.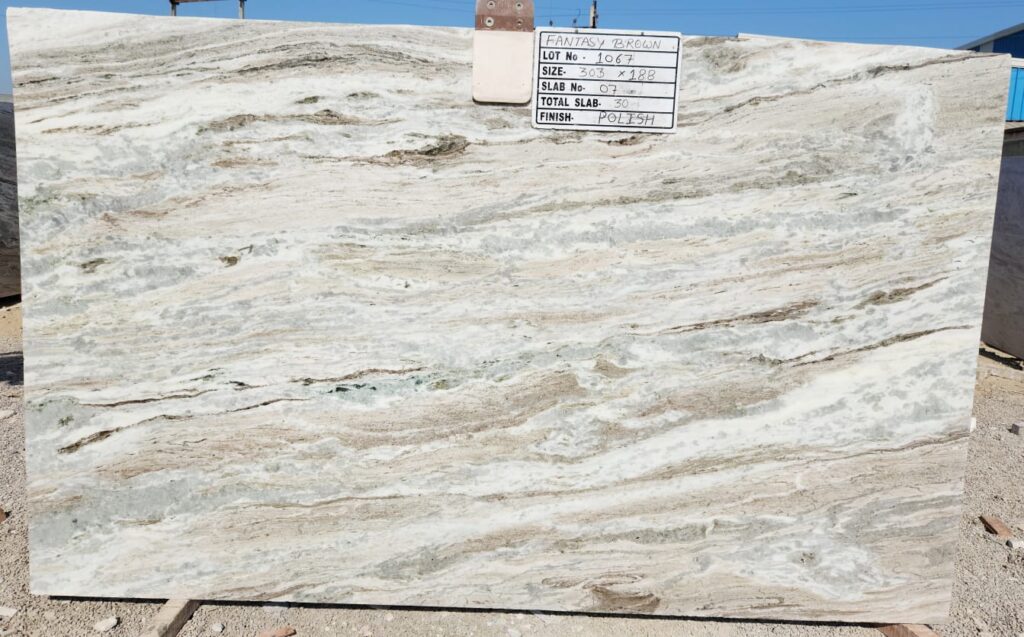 Uniformity
Since Fantasy brown marble is a natural stone, each slab is distinctive in its appearance. However, a project can be more cohesive through book-matching, creating a unique design unlike any pattern ever seen before. 
Finish 
Fantasy brown marble can be obtained in different finishes, like honed, leather, brushed, antique, etc. Every fantasy marble finish offers various benefits, so choose the option that serves your requirement. 
Conclusion
Fantasy brown marble is excellent for B2B buyers searching for unique, luxurious, appealing natural stones. The multi-purpose, durable, aesthetic, low maintenance, scratch and etch-resisting marble is ideal for applications ranging from floorings, countertops, stairs, internal and external wall claddings, etc., in residential and commercial projects.  
Therefore, if you're a B2B buyer, consider fantasy brown marble for your next project. At Stone Depot, we have the best deals on fantasy brown marble from ethically sourced quarries. Contact us today for quotations and bulk order enquiries! 
Other related marbles: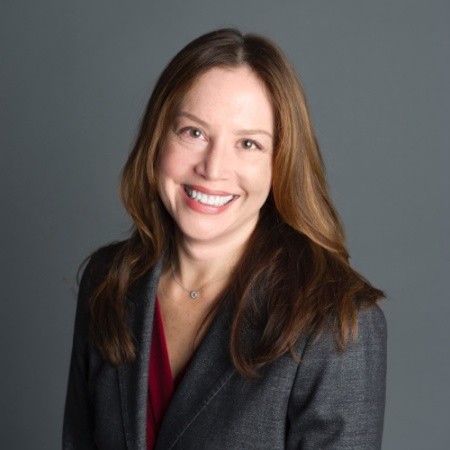 Hi there! My name is Deepa Sharma, and I'm a writing expert. I'm passionate about knowing different information, and I love reading books.