Quartz countertops can beat granite countertops any day! Their durability, versatility, low maintenance and beauty make them a highly sought-after material. Today, we find them in almost every setting, no matter whether they are residential or commercial. They're an ideal material for kitchen and bathroom countertops, vanity tops and more.
Quartz slabs mostly consist of natural quartz, but they are manmade. They're made using quartzite, pigments, and resins. Their manufacturing process creates colors, patterns and textures resonating with natural stones. If businesses are considering upgrading their countertops quartz range, here's a buying, care, and cost guide.
What is Quartz?
Quartz's chemical composition consists of silicon and oxygen. Its chemical composition formula is SiO2. It is one of the most resistant materials that forms in the Earth's crust. The residual material coming from rock weathering includes a high amount of it. That's why it's chemical and physical impact resistant to a high degree.
It scores 7 out of 10 on the Mohs scale. It occurs in almost every color including clear, white, grey, yellow, purple, and more. The Diaphaneity is between transparent and translucent. It has a wide range of applications in the construction industry. Over the years, Quartz stone has become popular among builders, fabricators, and interior designers.
Benefits of Using Quartz Countertops
Most people think of granite when considering buying countertops. Yet, quartz stone countertops are becoming a popular option. The sales have significantly gone up over the past decade. They're the preferred choice of many fabricators, designers, and architects. Wondering why? Here are the top benefits of installing white quartz kitchen countertops.
Durable: Quartz slabs are engineered construction materials. Their usual composition consists of 90% quartzite and 10% pigments and resins. Manufacturers ensure they're tough and durable. Their durability makes them excellent for various applications. Additionally, they're resistant to scratches and stains. Once installed, there's no worrying about repairs and restorations.
Non-Porous: The way quartz stone is made creates a non-porous smooth surface. That means they don't absorb any liquid or moisture. Their non-porosity makes it an ideal option for installation in kitchens and bathrooms. Moreover, this feature also makes them stain-resistant and anti-bacterial.
Low Maintenance: Installing kitchen countertops quart means least maintenance. For cleaning, the slabs need a mild surface cleaner, water, and a cloth to wipe off. Unlike granite tops, they do not require waxing or sealing treatments annually. Thus, it saves time as well as money in the long run.
Design Options: A quartz counter for baths or kitchens are manmade material. There are an infinite number of patterns, designs, and textures available in different shades and finishes. Materials like granite and marble come in colors that occur naturally, which limits the aesthetic options. Quartz is great if buyers need something tailormade.
Uniformity: Natural stone countertops come straight from the Earth's crust. One can expect color, pattern, and texture variation to be present. So, if buyers want to create a cohesive look, it can be challenging to work with granite or marble. Quartz slabs are the best when creating uniform aesthetics.
Great Investment: From a futuristic perspective, these slabs are an excellent investment. The reasons are durability, low maintenance, non-porous, uniformity, etc., that's in the list above. They will last a lifetime while retaining their original state. There's also no need for repairs. or replacements. So, they'll add great value to the property.
Quartz Countertops Buying Tips
Countertops and slabs made of quartz come in a wide variety. Different slabs can have different patterns, textures, and finishes. Buyers must consider the project type and other factors before making a buy. So, here are useful tips to remember when choosing quartz slabs and countertops.
Define Project Type: Before finalizing a product, one must assess the setting/project. The quartz slab's use influences the choice a lot. For instance, all quartz options are durable; yet not all are fit for interior or exterior installation. Some varieties that may be great indoors might not perform well outdoors.
Define Your Budget: Businesses must check the amount they're willing to buy products and add to their collection. Different stone countertops have different prices so assess which fits the budget. Allocating a budget will help narrow down the choices and help make better decisions.
Select Aesthetics: Next, select the aesthetic, ambience or look of slabs. They are available in light as well as darker shades. For example, if there's a small space that needs something to make it appear bigger, go for lighter shades and vice versa. There are many quartzes countertop colors to pick from.
Choose Finish: White quartz kitchen countertops come in various finishes. For example, they can be polished, leathered, or honed. Choose as per the area of application. A kitchen would require a smooth finish, whereas a bathroom would need slip-resistant flooring.
Select a Company: Choose a company like Stone Depot. Having a reliable partner is necessary as it guarantees product quality at the best prices. We offer the finest kitchen countertops quartz at wholesale prices. Additionally, we also make quick and secure deliveries to your doorstep.
Compare Prices: Finally, request quotations from shortlisted companies and compare prices. Remember to not compromise on quality when trying to pick cheaper options. Go for brands like Stone Depot that offer premium quality stones at competitive prices.
How to Care for Quartz Countertops for Kitchens?
Quartz Countertops have a tough, smooth, and non-porous exterior. Any liquid or moisture cannot penetrate the surface, resulting in stain-proof slabs. It's also one of the most hygienic materials to use in kitchens, baths, flooring and more. In the making process, the slabs are polished so there is no need for sealing or re-sealing.
As far as cleaning goes, a washcloth, water and mild cleaner are enough to maintain cleanliness. For minor stains, a non-abrasive sponge and a glass cleaner can do the job. To remove any bacterial growth, one can use 50-50 solution of water and rubbing alcohol. But quartzes are susceptible to extreme heat damage. So, remember to use protective pads or trivets when placing a hot pan.
Quartz Countertop Cost
The costs vary depending on the material's type, size, and thickness. The quartz countertop cost can also rise in case of custom-size requests. Our prices for quartz slabs at Stone Depot start at 55 Dollars per square foot. The standard size available with us is 126″ x 63″. We also offer bespoke sizes and thicknesses.
Stone Depot – The Best Quartz Countertops Supplier
With quartz being a sought-after material, businesses are willing to add it to their range. It can meet all the demands of fabricators, architects, and designers. So, make sure to choose a quartz countertops supplier that's reliable and offers high-end products.
At Stone Depot, we offer a broad and premium range of quartz countertops at the best prices! Here's a sneak peek of the products available with us.
Sparkling White Quartz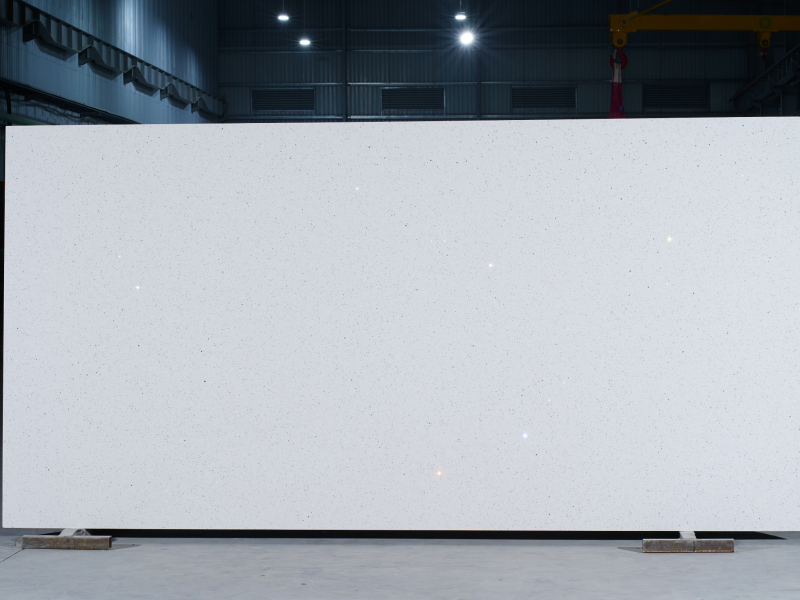 Sparkling white quartz features a shimmery white wintery landscape look. Our available products are 126 x 63" slab size with 3 cm thickness.
Calacatta Quartz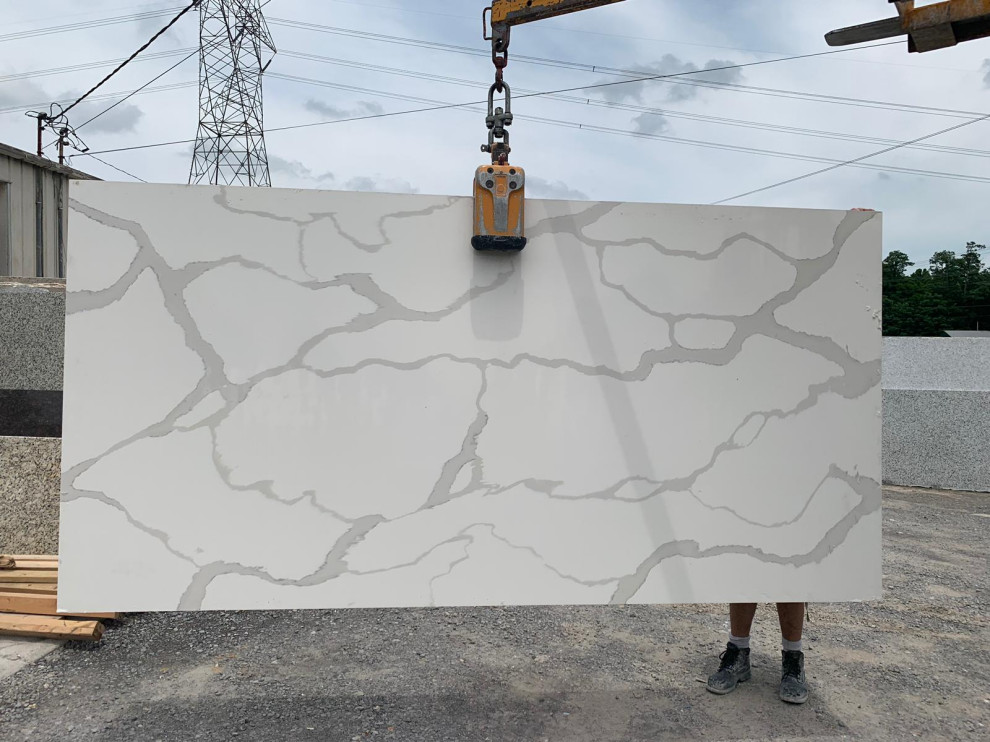 Calacatta quartz mimics Calacatta marble's appearance. It has a clean white background with unique, and dramatic veining. We have them in a polished finish and 3/8-inch thickness. We can also do custom sizes.
Carrara Quartz
Carrara Quartz displays an airy, delicate, and stunning-looking quartz with a white background and soft grey veining. We do custom sizes but the standard size available with us is 122″ x 64″ with 11/4″ thickness.
Bianco Quartz
Bianco quartz mimics the appearance of Bianco marble from Italy. It features specks of greige, grey and brown on a creamy white background. We have extra and jumbo slab sizes with 3/8″ thickness.
Statuario Quartz
Statuario Quartz is one of the most popular designs in the market with a beautiful white back and irregular grey veins. The standard size is 4 feet x 8 feet with 20 mm thickness.
Carrara Hilos Quartz
Carrara Hilos displays an intricate white and grey veining. We have polished Carrara Hilos Quartz available in a polished finish.
Dazzle Grey Rive Quartz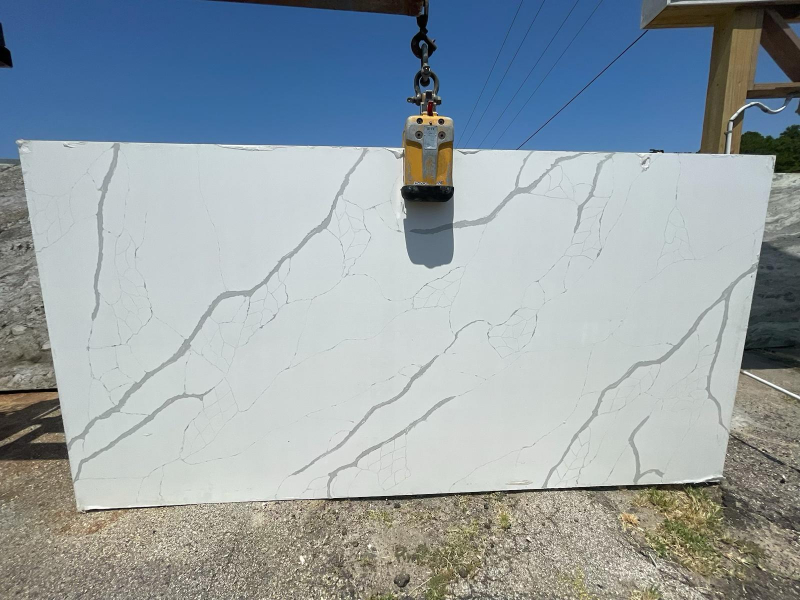 Dazzle grey river quartz appearance is like natural riverbeds. It's a great stone popular among designers, fabricators, and architects.
Venetian White Quartz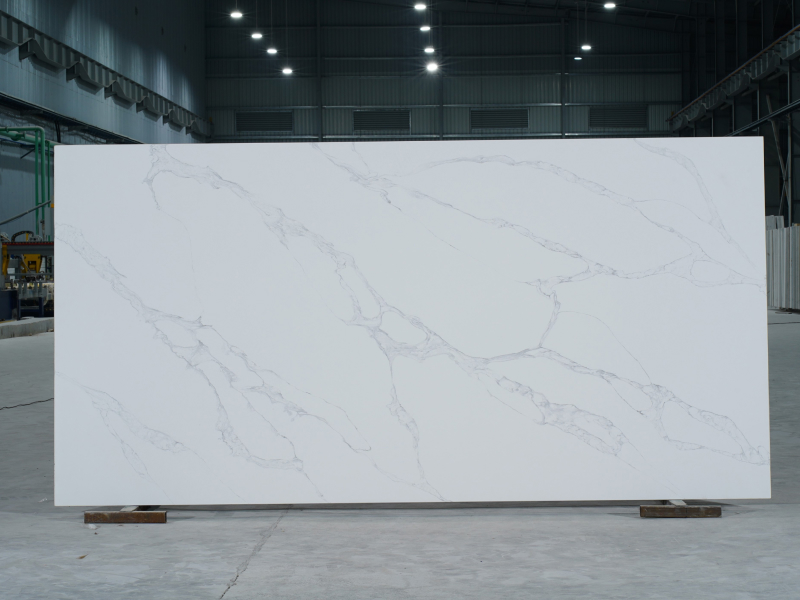 Venetian white quartz exhibits a soft white background with feathery grey veining. It's excellent for kitchens, bathrooms, and flooring.
Calacatta Divine Quartz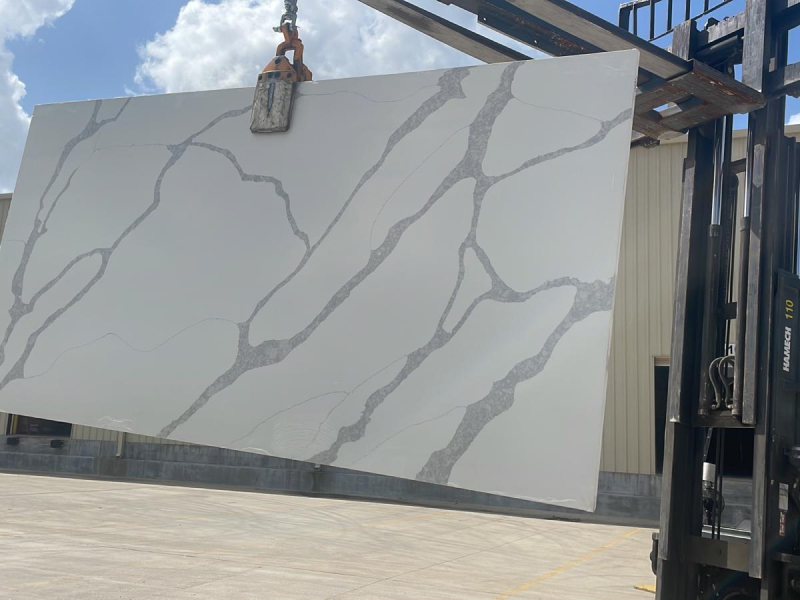 Calacatta divine quartz is a popular option with a crisp white back and sharp black or grey veining. It's a classic choice available in different finishes including polished, tumbled and more.
The demand for quartz countertops and slabs is on the rise! So, they're worth adding to the product range. If you are a business looking for a quartz stone supplier, there's no better choice than Stone Depot. We are a leading distributor of quartz and natural stones at wholesale prices. Contact us (Backlink Contact Us Page) for high-quality stones across the US today.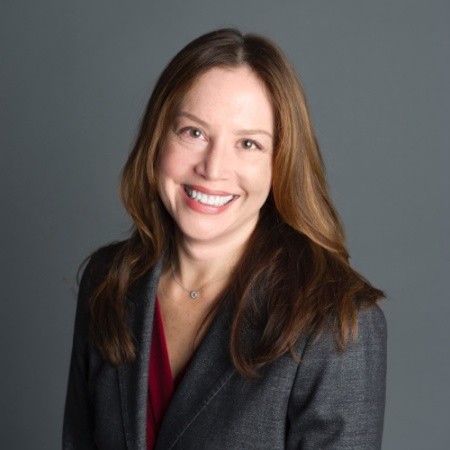 Hi there! My name is Deepa Sharma, and I'm a writing expert. I'm passionate about knowing different information, and I love reading books.